Season 2 of Dark Winds, the mystery series that returned after season 1's great success, finds Leaphorn and Chee investigating new cases.
Graham Roland (Jack Ryan, Fringe) and John Wirth (Hell on Wheels, Hap, and Leonard) are the show's main creatives, with George R. R. Martin (A Song of Ice and Fire) and Robert Redford serving as executive producers.
With such a stellar pedigree, it's no surprise that the first season of this show was deemed "Certified Fresh" by critics at Rotten Tomatoes.
In case you missed the first season or are trying to get caught up, here is everything you need to know about Dark Winds season 2.
How long is Season 2 of Dark Winds?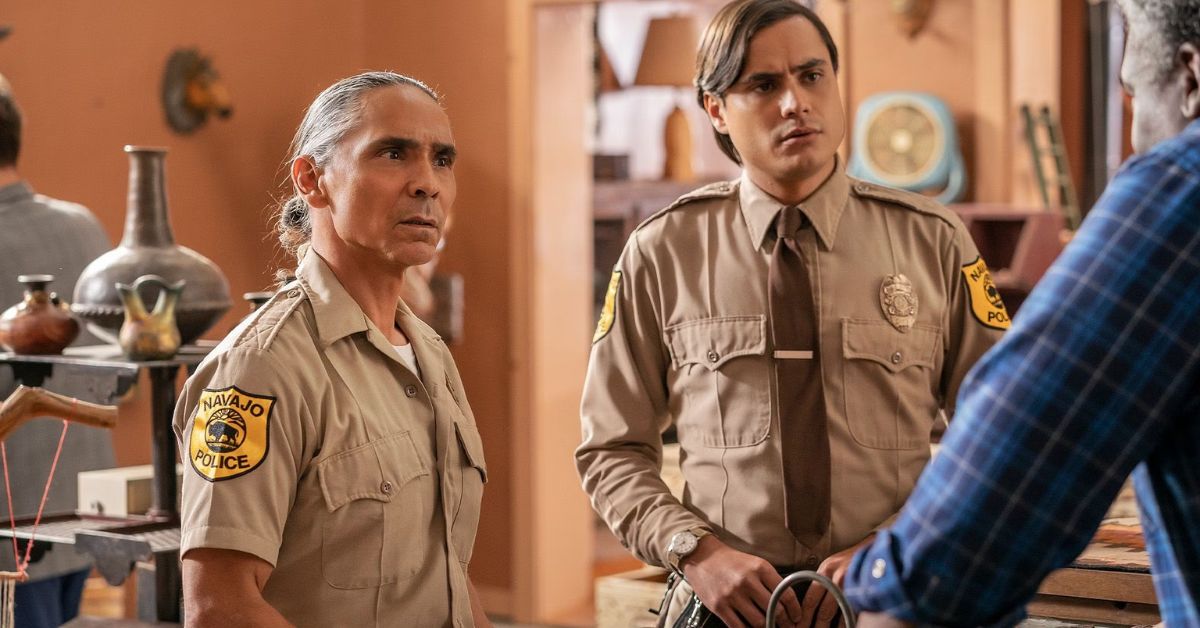 There are six episodes in Season 2 of Dark Winds.
The following is a list of episodes:
Episode 1 – Na'niłkaadii
Episode 2 – Wonders of the Unknown
Episode 3 – Antigonish
Episode 4 – The March
Episode 5 – Black Hole Sun
Episode 6 – Hózhó náhásdlįį
A bank heist in Gallup, New Mexico was the focus of the FBI's investigation in the previous season, consisting of 6 episodes. In Season 2, Lt. Joe Leaphorn and Jim Chee return to the high desert of Navajo Country to pursue the same culprit on separate investigations. Leaphorn and Sgt. Manuelito will join forces with the sheriff's office in forthcoming episodes, while Chee will do it alone.
Zahn McClarnon plays Lt. Joe Leaphorn and Kiowa Gordon plays Jim Chee in the second season of Dark Winds. Jessica Matten plays Bernadette Manuelito, while Nicholas Logan plays Colton Wolf in the supporting cast.
The Cast of Season 2 of Dark Winds
Zahn McClarnon will reprise his role as Joe Leaphorn, and Kiowa Gordon will return as Jim Chee in the upcoming second season of Dark Winds.
Deanna Allison, who played Emma Leaphorn, and Jessica Matten, who played Bernadette Manuelito, are also expected to return. Since Nakai is still alive, we expect to see Eugene Brave Rock reprise his role as Frank in future episodes.
The complete cast of Dark Winds season 2 is as follows:
Zahn McClarnon as Joe Leaphorn
Kiowa Gordon as Jim Chee
Jessica Matten as Bernadette Manuelito
Rainn Wilson as Devoted Dan
Rob Tepper as Pete Samuels
Elva Guerra as Sally Growing Thunder
Jeremiah Bitsui as Hoski
Deanna Allison as Emma
Eugene Brave Rock as Frank Nakai
Nicholas Logan as Colton Wolf
Jeri Ryan as Rosemary Vines
Trailer for Dark Winds Season 2
The second season trailer for Dark Winds gives a good idea of what Leaphorn will face this year and what he must do to track down the killer. Check it out down here for yourself.
Where to Watch Dark Winds Season 2?
AMC, which broadcasts Dark Winds on television, is a cable channel included in many standard pay-TV packages and also available through live TV streaming services like Sling TV, YouTube TV, and others. The show is also available on AMC Plus, although that service needs a monthly fee.
You can also follow us on our Twitter handle to be in check with all the current happenings.
You can also read about other upcoming seasons by visiting the links below: