Enola Holmes 3 Release Date: Netflix hasn't officially announced Enola Holmes 3 yet, but given Enola Holmes 2's successful launch, we think it won't be long.
The sequel was the most-watched title on Netflix throughout its first weekend, with 64.1 million hours of viewing, even surpassing the eagerly-awaited return of Manifest (57.1 million hours). As everyone else catches up with Millie Bobby Brown's current case as Sherlock's younger sister Enola, we're confident that the success will last for a few more weeks. The performer, who also produces the series, also has ideas for a third film.
"I would adore taking part in another. I would want to see her take on more cases, experience pressure, finds herself in absurd situations, and once more experience vulnerability. I'm so happy to see her back at work "She spoke with ScreenRant. The possibility of a third film was made even more interesting by the introduction of certain iconic Sherlock characters in the sequel to the Enola Holmes universe.
Here is all you need to know about a potential Enola Holmes 3 and what fans may anticipate while we wait for Netflix to confirm a threequel.
Enola Holmes 3 Plot
Enola Holmes 2 wraps up the main mystery similarly to the first film and doesn't really leave us on a major cliffhanger to tease the third film.
We see that Moriarty has escaped from prison in the final scenes of the sequel, so we can be sure that she'll return to cause mayhem in the threequel. For any upcoming mysteries, at least Enola and Sherlock will now have Dr. John Watson's assistance.
The book series by Nancy Springer that served as the basis for the films wasn't actually a source of inspiration for the sequel.
Moriarty hasn't appeared in the series at all, and the third book, The Case of the Bizarre Bouquets, does introduce Dr. Watson, so we can assume that the third movie will once again tell a unique story.
It is unknown what that will be, but you can anticipate it to be appropriately twisting.
Enola Holmes 3 Cast
Without Millie Bobby Brown playing the title role, it wouldn't be an Enola Holmes film, and because Brown also produces the series, she'll undoubtedly return to the case if a third film is made.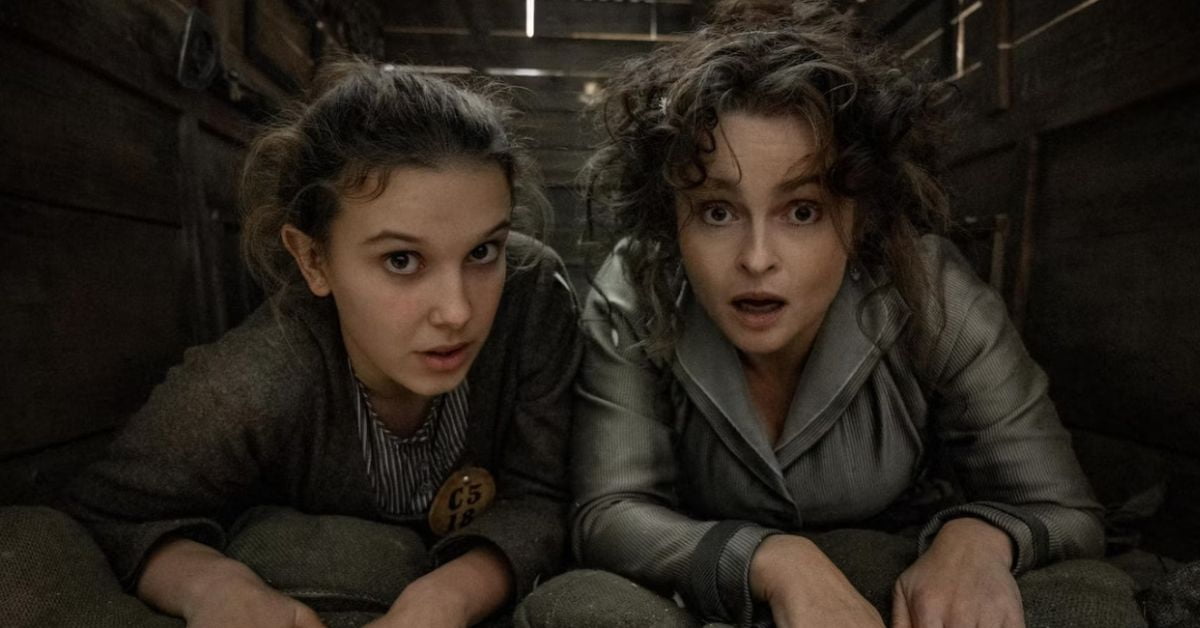 Henry Cavill as Sherlock Holmes, Louis Partridge as Tewkesbury, Helena Bonham Carter as Enola and Eudoria, Susie Wokoma as Edith, and Adeel Akhtar as Lestrade are further characters that are expected to make a comeback.
Even if he wasn't a part of the sequel, Sam Claflin's portrayals of Enola and Sherlock's brother Mycroft may return.
Due to a scheduling difficulty, he was unable to participate in the sequel, although it is still possible. In regards to Claflin's probable comeback, director Harry Bradbeer said, "If there was a future one, we would love to have him back."
Don't continue reading if you haven't seen Enola Holmes 2 because it contains spoilers about certain notable additions that the sequel made.
First off, since Sharon Duncan-Brewster will be portraying renowned Sherlock villain Moriarty in the third film, we may anticipate seeing more of her. Despite Moriarty's talent, we don't think she has a chance against Sherlock and Enola.
As Himesh Patel was first presented as Dr. John Watson in the sequel's credit scene, our heroes also now have a well-known Sherlock ally on their side.
Enola Holmes 3 Trailer
Unfortunately, since Enola Holmes 3 hasn't been filmed, not even a detective like Enola would be able to find any footage of it.
If our prediction of a late 2024 release is accurate, we'll have to wait a while since the first sequel trailer didn't arrive until two months before the film's debut.
You can watch Enola Holmes and Enola Holmes 2 right now on Netflix.
Enola Holmes 3 Release Date
We don't yet know when Enola Holmes 3 will be released because, as was already noted, Netflix hasn't officially confirmed the threequel.
However, because the first movie debuted in September 2020 and the sequel followed in November 2022, we can make some educated guesses. The third film may not come out until late in the year, but at the very least, we may have to wait until September 2024.
It's possible that Enola Holmes 3 will be postponed as well because Brown and Cavill will be very busy with Stranger Things season 5 and a potential Superman movie, respectively, in the near future.
But let's hope not. We'll update this section if new information becomes available.
Read More: