Thanks to an abundance of fascinating and gorgeously animated episodes covering just about every topic you can think of, anime is thriving today.
There is something for everyone in the world of anime, from shows about ruthless businessmen who are reincarnated as young girls and rise through the ranks of the military in a fantasy version of Germany during World War I ("Saga of Tanya the Evil") to shows about people who change into an animal from the Chinese zodiac whenever they are hugged by someone of the opposite sex ("Fruits Basket").
We'd be remiss if we failed to bring up "Fire Force," a program with a distinctive twist: A group of firefighters and the idea of spontaneous combustion are the subjects.
The anime centers on Shinra Kusakabe, a third-generation pyrokinetic with the ability to set his feet on fire, and is based on the manga by "Soul Eater" author Atsushi Ohkubo. Shinra teams up with Special Fire Force Company 8, a group of pyrokinetics, to combat Infernals, human beings who have been spontaneously combusted into living flames.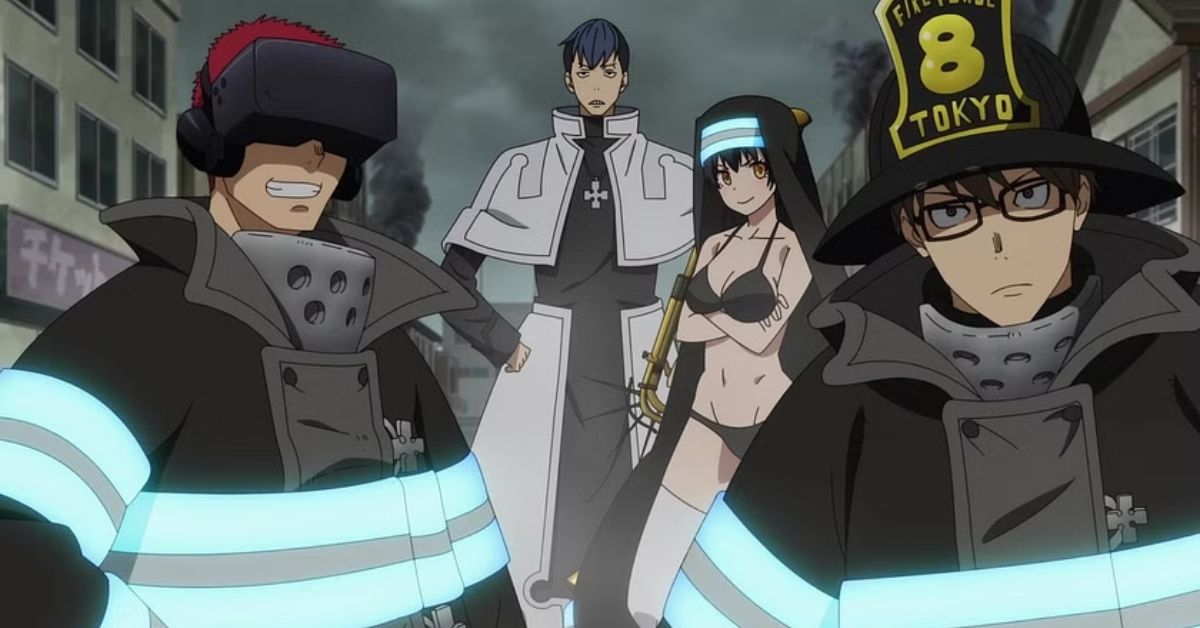 When "Fire Force"'s second season ended in December 2020, it ranked among the top five most watched anime television programs on Amazon Prime Japan. Here is all the information we currently have regarding Season 3 of "Fire Force," as fans have been waiting impatiently for more of the popular series since that time.
Fire Force Season 3 Release Date
On May 16, 2022, the show's official Twitter account made "Fire Force" Season 3 a formality. The tweet featured a photo of the teenage attacker Shinra Kusakabe, who had a set of sharp teeth, posing after one of his blows.
#BREAKING: Fire Force Season 3 Officially Announced

🔥 READ: https://t.co/uir5ahrqlw pic.twitter.com/FsdvDHjfXa

— Fire Force EN (@FireForceAnime) May 16, 2022
Unfortunately, no release date for Season 3 was provided; the reveal was limited to that. Fans may at least maintain their excitement while they await the release of more details because it wasn't even certain for a while whether the anime would be renewed for a third season.
In July 2019 and July 2020, respectively, the first two seasons of "Fire Force" were released. Without any news of a third season, July 2021 came and went, and as 2022 began, nothing was known about it. It seems that a July 2023 release was the goal until Season 3 was ultimately confirmed in May of that year.
However, it became increasingly obvious that this would not be the case as summer 2023 got nearer. The show's Japanese Twitter account confirmed that the third season of "Fire Force" was "in production" in May 2023, allaying the frustration of the fandom, however no release date was once more provided.
Fire Force Season 3 Plot
The "Fire Force" Season 2 conclusion gave the impression that Company 8 and the Evangelist were about to engage in an even larger conflict. Shinra Kusakabe pushed himself in his training to achieve a new point known as "The Press Of Death" because he wanted to get stronger to combat Company 8's more hazardous opponents. The murder of Captain Hague of Company 4 in the season finale also delivered the heroes a devastating blow.
Shinra is able to create an Adolla Link and witness Hague's final moments thanks to his improved degree of ability. Although we lack specific information regarding what will occur next, we may use the source material to educate ourselves about the general direction the story is taking.
The anime has largely followed the manga, so by examining the volumes that have not yet been adapted, we may predict what Shinra and Company 8 can expect from Season 3. Season 1 of the anime covered Volume 1 and a portion of Volume 11, while Season 2 covered the remainder of Volume 11 and a portion of Volume 20.
Manga readers will be aware that in Volume 21, Captain Barns of the 1st Brigade, Shinra faces his most challenging foe to date. The dominant religion in the Empire, The Holy Sol Temple, has formed an alliance with Barns and Company 1. Company 8 is essentially labeled as a terrorist organization and Captain Obi is locked up as a result of the Evangelist's power on the government.
Naturally, Shinra and company do not accept this leniently. In an effort to free their captain, they team up with the villainous Joker and infiltrate the Grand Penitentiary.
Also check about other articles related to Anime:
Fire Force Season 3 Cast
The cast for "Fire Force" Season 3 has not yet been officially announced. A majority of the series' cast of characters and voice actors are anticipated to return, including Gakuto Kajiwara (Japanese) and Derick Snow (English) as Shinra Kusakabe, our fearless protagonist, based on the consistency of the show's first two seasons.
In addition to "Fire Force," Kajiwara is most known for portraying Hiro in the anime adaptation of the card game "Shadowverse" and Asta in the adored shonen series "Black Clover." Snow, on the other hand, has lent his voice to a number of well-known programs over the years, including "One Piece," "Dragon Ball Super," "Fairy Tail," and "My Hero Academia," where he plays the irate Yakuza character Mimic.
By reading the manga, we know (or at least suspect) that Captain Obi will play a significant role in the first few episodes of Season 3, which means Kazuya Nakai will be back in the recording studio. With approximately 300 credits under his belt, he is a true voice acting veteran.
Nakai provided the voices for a number of well-known characters, most notably Roronoa Zoro in "One Piece" and Toshiro Hijikata in "Gintama." While Nakai has more career credits than Inman, Inman provides Obi's voice in the English dub. He contributed his own vocal style to everything from "Dragon Ball Z" to "Fullmetal Alchemist: Brotherhood."
Iris (Mao Ichimichi, Alexis Tipton), Takehisa (Kenichi Suzumura, Christopher Wehkamp), Tamaki (Aoi Yuuki, Jad Saxton), Arthur (Yuusuke Kobayashi, Eric Vale), and Maki (Saeko Kamijou, Sarah Roach) are some prominent characters we anticipate seeing in Season 3. The self-proclaimed antihero The Joker (Kenjirou Tsuda, Sonny Strait) will very certainly return to action as well.
I hope you liked our article. For more such articles, you can bookmark our website, Poptopnews.com.