The existence of Hocus Pocus 3 was verified by a Disney executive. In 1993, Hocus Pocus debuted in theaters and quickly became a Halloween tradition for the whole family.
The fantasy comedy, which takes place in Salem, introduces the Sanderson Sisters (Bette Midler, Sarah Jessica Parker, and Kathy Najimy) as three evil witches who were unintentionally brought back to life on Halloween night by a teenage boy.
In Hocus Pocus 2, which debuted on Disney+ last year, the Sanderson Sisters made a comeback when the trio was once more brought back to life by teens on Halloween. Despite receiving a dismal 48% audience score on Rotten Tomatoes, the sequel was a great hit for Disney+ and ended up becoming the service's most watched movie.
Official Announcement of Hocus Pocus 3
The New York Times recently spoke with Sean Bailey, president of Walt Disney Pictures, about The Little Mermaid publicity. After the 2022 Disney+ original sequel, Bailey told the outlet during the interview that Hocus Pocus 3 is now being developed at Disney.
The sequel to 1993's Hocus Pocus debuted on streaming services in late September of last year, just before Halloween, and it included the same cast of witches from the first film.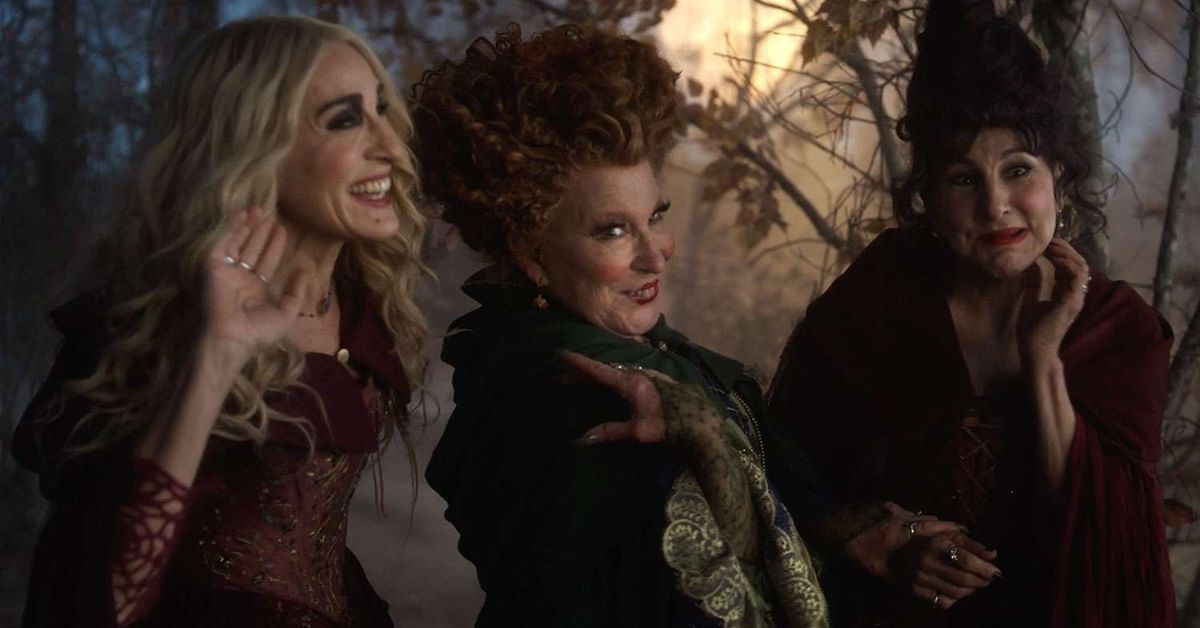 The young actors that starred in the original Hocus Pocus movie were conspicuously absent from the sequel, despite the Sanderson Sisters' return. The actors who played Max, Allison, and Binx the cat, respectively, Vinessa Shaw, Omri Katz, and Jason Marsden, spoke with Entertainment Weekly about a potential threequel.
The cast said they would all be open to returning for a third film even though they were not asked to return for the 2022 sequel.
The franchise is "such a fun story," according to Shaw (who portrayed Allison in the first movie), and the chance to reflect on the event means "the fondness keeps growing:"
It's a great story, and it's even better now that we're remembering it, since our affection for it keeps growing.
Katz, who plays Max, adding that he would be "100 percent down to do it" if the chance to return occurred, while Marsden, who plays Bix, gave a similar "absolutely" response.
You can also read about other upcoming seasons by visiting the links below:
Sarah Jessica Parker, who plays Sarah Sanderson in the crucial primary trio of witches, said to ExtraTV that she would only return if Bette Midler, the star of the franchise, was also on board:
"Bette has already begun rumors… My wagon is tethered to her star. If she decides to perform a third, Nobody can refuse the Divine Miss M."
When asked if she will participate in Hocus Pocus 3: The Return, the 77-year-old Midler (Winifred Sanderson) responded with a far less certain "maybe" to E! News.
"I'm not certain. The world is bizarre. I'm not sure, maybe. No one knows."
Sean Bailey has struggled to develop a new franchise for the House of Mouse during his 13 years as president of Walt Disney Pictures.
Speaking on his franchise failures, the Disney executive told The New York Times that while it can be "really hard to crack" to create an original IP, his division is "going to keep trying:"
"It's incredibly challenging to succeed and score an original, hugely lucrative victory. We'll continue to make an effort."
Bailey may be hopeful that Hocus Pocus will become the first franchise because he revived the IP for a sequel after over 30 years and started work on a third film only a few months later.
Hocus Pocus 3 Release Date: When To Expect It?
Hocus Pocus 3 is most likely still in the early stages of development given it was just recently confirmed by Disney through an executive interview. This is especially clear given that the most recent film debuted on Disney+ just under a year ago, and considering that the cast's responses seem to exclude any knowledge of threequel intentions.
The likelihood that Hocus Pocus 3 will become another Disney+ original without first playing in cinemas is high. Disney+'s most recent film was one of its biggest successes to date, so the studio will probably want to repeat it rather than run the risk of disappointing theatergoers.
Hocus Pocus 3 is far too early in the production process to make any predictions about a release date, especially since the ongoing writers' strike will have surely put a stop to any work for the time being. We can only assume it may release next year or in 2025. When the studios and WGA strike a reasonable agreement will determine precisely when development may resume.
Disney will likely aim to release the third installment around Halloween time once more, with Hocus Pocus 3 possibly coming out as early as 2025. However, since the strike has probably put a stop to all activity and a writing backlog is anticipated after it is over, the movie is realistically set much further off than that.
A threequel, however, might be given more priority by Disney to be released sooner rather than later if Sean Bailey wants Hocus Pocus to become the franchise hit he so much wants.
There is no official release date yet for Hocus Pocus 3.
You can follow us on our Facebook page, if you liked our content.