Here we will talk about Minecraft Legends Release Date and much more about the gameplay. Another Minecraft spinoff being developed by Mojang is called Minecraft Legends. The Xbox and Bethesda Games Showcase 2022 was when the action-strategy game was initially unveiled, and it is now almost here.
With its completely voice-acted cutscenes, dynamically generated open environment to explore, and traditional real-time strategy gameplay, Minecraft Legends wowed us during our chance to sample it.
Here is all the information we currently have on the upcoming Minecraft Legends Release Date, including gameplay details, trailer details, and more.
Minecraft Legends Release Date
The Minecraft Legends Release Date is set for April 18, 2023. Even though Microsoft long ago bought Mojang, the crew is still committed to releasing multiplatform games. With Minecraft Legends, which is slated to release on PC, Xbox One, PlayStation 4, PlayStation 5, Switch, Xbox One, and Xbox Series X, the trend is expected to continue. It will also be accessible via Xbox Game Pass.
You can also have the knowledge about other upcoming seasons by clicking on the below links:
Gameplay Of Minecraft Legends
Action-tactics games like Minecraft Legends are popular. It has the same blocky aesthetics as the original Minecraft and Minecraft Dungeons and is set in the conventional Minecraft world. This game, however, is entirely focused on strategic combat.
On the official Minecraft Legends website, it says, "Inspire unexpected friends to build valuable alliances and lead them in tactical fights to safeguard their home." Before their Nether degradation consumes the Overworld, "take the fight to the piglins!"
The announcement trailer displayed a character galloping through several biomes on horseback while setting down flags to (ostensibly) call their troops and engaging in real-time combat with enormous waves of foes.
The tweet from the official Minecraft Legends twitter account about the release of the game.
In 2 weeks, #MinecraftLegends will introduce you to a stunningly lush world on the brink of destruction. Explore vivid biomes filled with friendly mobs and precious resources, but watch your step – the Overworld also has its perils.

Preorder now! ⚔️ https://t.co/YE8ASU1mpT pic.twitter.com/Xz4I53csns

— Minecraft Legends (@legends_game) April 4, 2023
The player observes as a structure is gradually constructed in front of them, suggesting that there may also be some crafting going on. The extent to which building and crafting will be incorporated into the game is unknown, but strategic combat and massive encounters appear to be the main draw.
The Nintendo Direct Mini provided fans with yet another peek at the overworld and its massive battles, along with a more in-depth look from the Developer Direct. This demonstrated the ability to play together with others as well as even more recognisable mobs from the original Minecraft game.
Minecraft Legends: A Multiplayer View
The multiplayer in Minecraft Legends will be both cooperative and competitive which has two teams with a maximum of four players each. On randomly created planets, they can create and engage in battle with mob armies.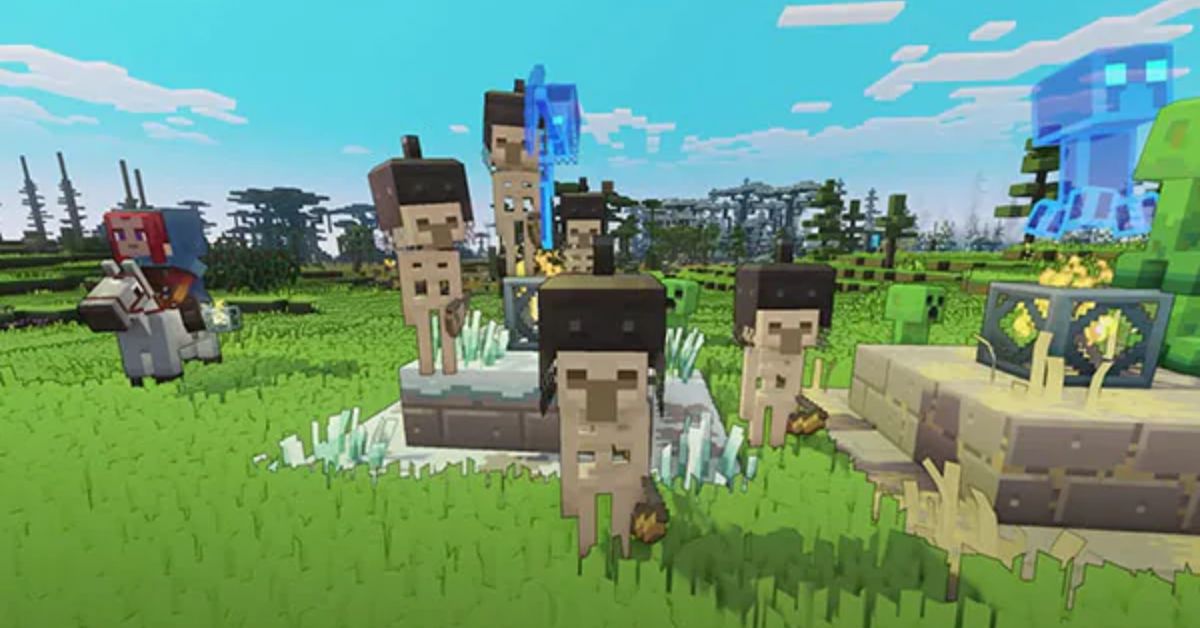 Minecraft Legends Trailers
At over two minutes long, the first official trailer for Minecraft Legends offers lots of cinematic imagery as well as a few gameplay samples.
Dennis Ries, executive producer of Mojang, commented on the teaser and shared a few additional details during the Xbox Games Showcase Extended 2022 press event.
Preorder Of Minecraft Legends
Minecraft Legends is currently available for presale on the official website of your preferred platform. You will pay $40 for the Standard edition, and $50 for the Deluxe edition. The latter edition comes with six extra skins, a hero, four mounts, and one more mount skin when it becomes available.
Our website Poptopnews.com has more such articles and latest updates. You can always find it on google by writing pop top news and find it on the top.