Russell Crowe is an  Australian actor, producer, and singer. Although Russell Crowe's career started in television, it was his Oscar-winning performance as Maximus Decimus Meridius in the 2000 film "Gladiator" that catapulted him to fame worldwide.
He also received praise for the films "The Insider," "A Beautiful Mind," and "Cinderella Man." Russell has played in the bands 30 Odd Foot of Grunts and Russell Crowe & The Ordinary Fear of God, and since 2006, he has co-owned the South
Early Life
On April 7, 1964, in Wellington, New Zealand, Russell Crowe entered the world. Both Jocelyn and John worked as caterers on movie sets, while John also managed hotels. His maternal grandfather was a cinematographer, and his cousin Martin Crowe, uncle Jeff Crowe, and aunt Dave Crowe are all professional cricket players.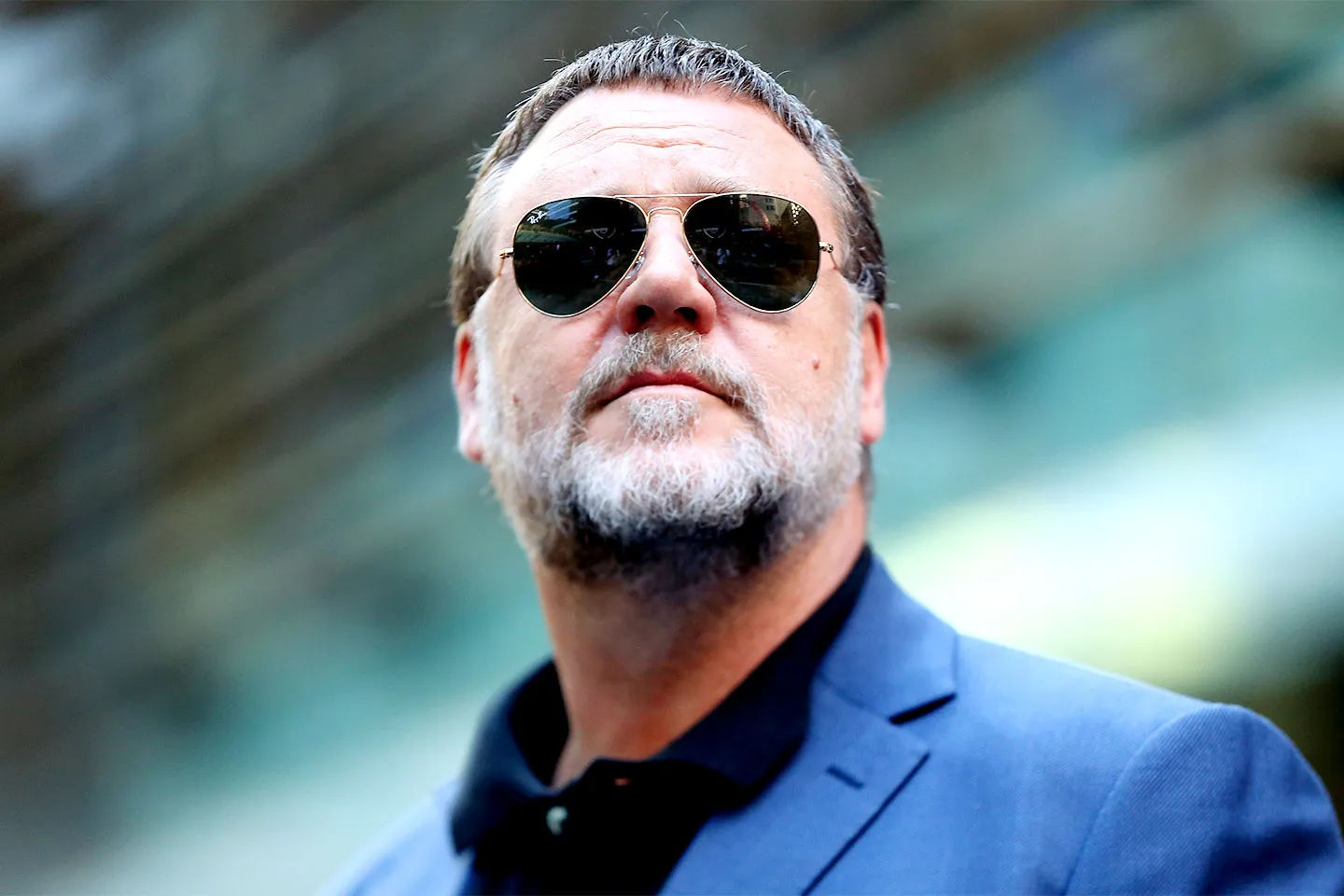 Russell's family relocated to Sydney, Australia, when he was four years old, and he made his acting debut in a 1972 episode of "Spyforce," whose producer was Jocelyn's godfather. Before returning to New Zealand with his family at age 14, Crowe went to Vaucluse Public School and then Sydney Boys High School.
After dropping out of Mount Roskill Grammar School at the age of 16 to pursue acting, he moved on to Auckland Grammar School with his brother Terry and cousins Martin and Jeff in New Zealand.
Acting Career
His first professional theatre gig was in 1986 when he played Eddie and Dr. Scott in a New Zealand version of "The Rocky Horror Picture Show," a role he later revisited in Australian touring production. Russell played Mickey in an Australian version of "Blood Brothers" in 1988, and he played Johnny in "Bad Boy Johnny and the Prophets of Doom" the following year.
After making an appearance on four episodes of the hit Australian soap "Neighbours" in 1987, Russell was cast in his first film, The Crossing, in 1990. He went on to star in "Blood Oath" (called "Prisoners of the Sun" in some countries), "Proof," "Spotswood," and "Romper Stomper," winning Australian Film Institute awards for both "Proof" and "Romper Stomper."
Salary Estimates
For his work on "Gladiator" in 2000, he was paid $5 million; for "Proof of Life" that same year, he was paid $7.5 million; for "A Beautiful Mind" in 2001, he was paid $15 million; for "Master and Commander" in 2003, he was paid $20 million, the equivalent of $28 million in today's dollars; for "Cinderella Man" in 2005, he was paid $15 million.
Music Career
In the early 1980s, Russell began performing music under the name "Russ Le Roq." He managed an Auckland, New Zealand, music venue called The Venue in 1984 and released several singles in New Zealand, including "I Just Wanna Be Like Marlon Brando" and "Shattered Glass." Crowe formed a band with his friend Billy Dean Cochran in the 1980s; initially called Roman Antix, the band changed its name to 30 Odd Foot of Grunts in 1992.
Personal Life
On his 39th birthday, April 7, 2003, Russell Crowe married Australian singer Danielle Spencer (his co-star in "The Crossing") They had two sons, Charles (born in December 2003) and Tennyson (born in July 2006), before divorcing in 2012.
Crowe was arrested in 2005 for second-degree assault and fourth-degree criminal possession of a weapon (the phone) after he threw it at a concierge at New York City's Mercer Hotel. He did not spend jail time, but the concierge sued him.
Philanthropy
Russell donated to a Jewish elementary school in Canada after an anti-Semitic firebombing destroyed its library. He also gave $200,000 to an Australian primary school to help them build a swimming pool and raised $400,000 for the New South Wales Rural Fire Service in the wake of the 2019 bushfires in Australia.
Achievements
Russell Crowe has been honored with numerous accolades throughout his career, including an Academy Award, four Australian Academy of Cinema and Television Arts Awards, two Golden Globe Awards, and a Screen Actors Guild Award. In 2009, Australia Post issued a series of commemorative "Legends of the Screen" stamps on which Russell Crowe and his "Gladiator" character also appeared.
Real State
Russell purchased a waterfront home in Sydney in 2001 for $9.2 million and sold it for $11.5 million in 2013. Crowe and Spencer purchased a Woolloomooloo penthouse in 2003 for $14.35 million and paid $10 million for a Rose Bay mansion in 2011. Following the finalization of their divorce, Russell transferred the Rose Bay home to Danielle.
Russell Crowe Net Worth
Russell Crowe Net Worth is $120 Million. He is a famous singer. Due to his profession in many fields, he got publicity worldwide. He is known worldwide by music fans.
Recent post:
Kenya Barris Net Worth 2022: How Rich Is The Famous American Director In 2022?
Jim Cantore Net worth 2022: How Rich is the American Meteorologist In 2022?