With its fast-paced mecha combat and a variety of character customization options, the popular video game series Armored Core has captured the hearts of players everywhere. The sixth game in the series has been eagerly anticipated by fans because it promises even more intense action and exhilarating gameplay.
Even though fans are anticipating Armored Core 6, no official release date has been disclosed. Fans are already excitedly speculating as to when they will be able to play the most recent installment of this storied franchise.
Armored Core 6 Release Date
Armored Core VI: Fires of Rubicon will be released in 2023 on Xbox Series X, PS5, and PC, FromSoftware revealed a trailer and made the official announcement at The Game Awards 2022. The game will be published by Bandai Namco.
We are pleased to announce that "ARMORED CORE VI FIRES OF RUBICON", the latest entry in the Armored Core series, is coming in 2023. We look forward to sharing more info at a later date. pic.twitter.com/0Gx5na0Ibe

— FROMSOFTWARE (@fromsoftware_pr) December 9, 2022
The announcement at The Game Awards is significant because there hasn't been an Armored Core game in almost ten years. The most recent game to be made available was Armored Core V, which was initially released by the developers back in 2012 for the PlayStation 3 and Xbox 360.
Also Check:
Armored Core 6 Gameplay
In single-player, players construct missions to take on foes and collect credits. The player moves through levels built on a variety of landscapes in the missions, from desert bases to space stations. The stages are so open that the player must always be on the watch for attackers.
The primary weapon types in this shooter are guns, rocket launchers, lasers, missiles, and swords, all of which can be freely customized with player purchases. Even if a mission is unsuccessful, the player will still incur expenses for ammo and repairs, which are subtracted from the mission payout.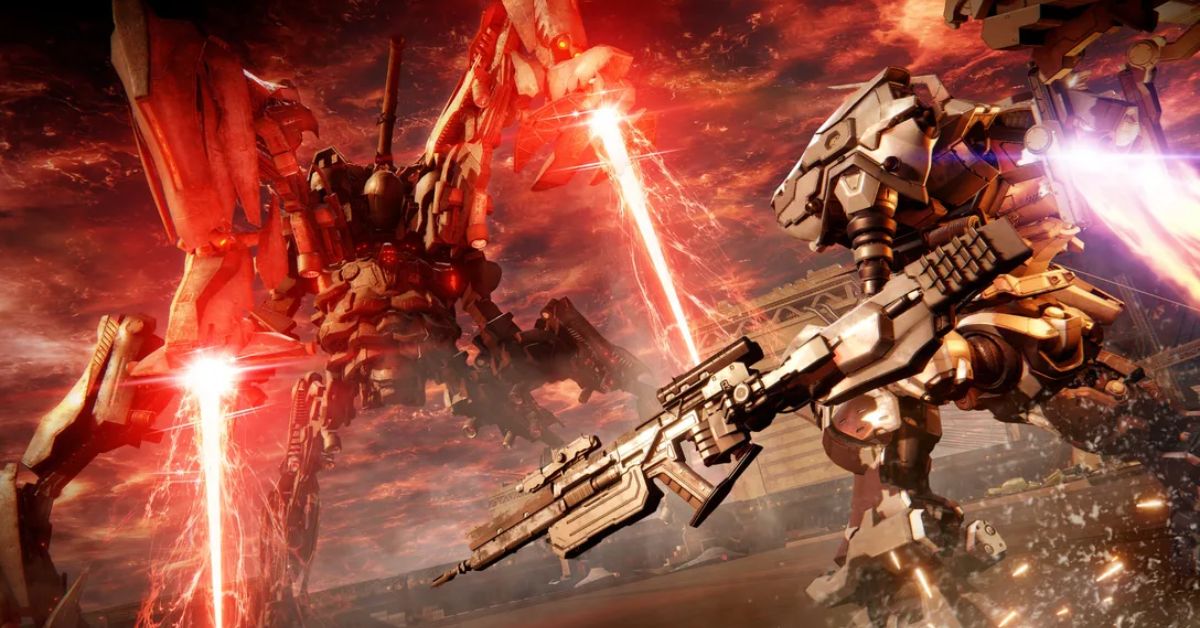 The money the player earns from completing missions must be used to purchase their own weapons and AC parts. As the player completes missions, their pay increases, but choosing one mission over another can lock down others, creating a branching path through the story that can vary significantly on subsequent play sessions. The game offers a two-player versus split-screen or PlayStation Link Cable mode.
Will Combat In Armored Core 6 Be "Soul-like"?
Following the initial reveal, Hidetaka Miyazaki of FromSoftware confirmed a few intriguing details regarding the game's development in an exclusive interview with IGN. The fact that the Fires of Rubicon won't "just be a sci-fi Soulslike," as Miyazaki stated, may be a relief to those who have difficulties with soulsborne-style video games.
In his subsequent statement, Miyazaki claimed that the developer had "not been making a conscious effort to try to direct [Armored Core VI] towards more Soulsborne type gameplay." Despite this, it appears that the boss battles and in-game action will still strongly reflect the spirit of the Soulsborne games. Boss battles are the game's high point in this title, according to director Masaru Yamamura's statement to IGN.
The essence of the conflicts is obviously given, as is common for FromSoftware, in which the player understands the enemy's motions and then plays games with them.
Both the opponent and your own machine attack vehemently and aggressively in this game. We want players to appreciate both the unique aspects of AC, such as learning how to put together the correct components to take on the hardest enemies, as well as the dynamic and furious boss battles that only mechas can offer, as we develop the game.
Armored Core 6 Trailer
Our website Poptopnews.com has more such articles and latest updates. You can always find it on google by writing pop top news and find it on the top.