Chicago native Dick Butkus was born into a working-class Lithuanian family on December 9, 1942, in the Fernwood neighborhood on the city's south side. Butkus, the ninth and last kid, had to learn early on how to compete and earn his way. He was already set on a career in professional football by the time he was in the fifth grade.
Dick Butkus Death
NFL Network published its 2009 list of the top ten most feared tacklers in league history. First on the list was a guy named Dick Butkus. No one else would have been acceptable as number one.
Butkus's name is now commonly associated with the intimidating and frightening aspects of football's darker side. Butkus was also almost associated with the NFL and the position of middle linebacker.
Longtime Chicago Bears great Butkus passed away at age 80. His family released a statement through the Bears saying he passed away at home in Malibu, California while sleeping peacefully.
George McCaskey, the chairman of the Bears, issued a statement in Butkus's honor.
Roger Goodell, commissioner of the NFL, also commented on Thursday night.
"Dick Butkus was a fierce and passionate competitor who helped define the linebacker position as one of the NFL's all-time greats," Goodell said. "Dick's intuition, toughness and athleticism made him the model linebacker whose name will forever be linked to the position and the Chicago Bears.
"We also remember Dick as a long-time advocate for former players, and players at all levels of the game. The Dick Butkus Award and his foundation honored achievement on the field and service to the community among high school, college and NFL linebackers. Dick was a champion of clean sports as his 'I Play Clean' campaign helped raise awareness about the dangers of steroid use among high school athletes.
"We send our deepest condolences to the Butkus family, the Bears organization and the many fans and people he impacted throughout his life."
In 1979, Butkus was honored with a spot in the Pro Football Hall of Fame. It was an easy decision since it's impossible to picture how the game's history would have been written without Butkus.
The Brutality of Professional Football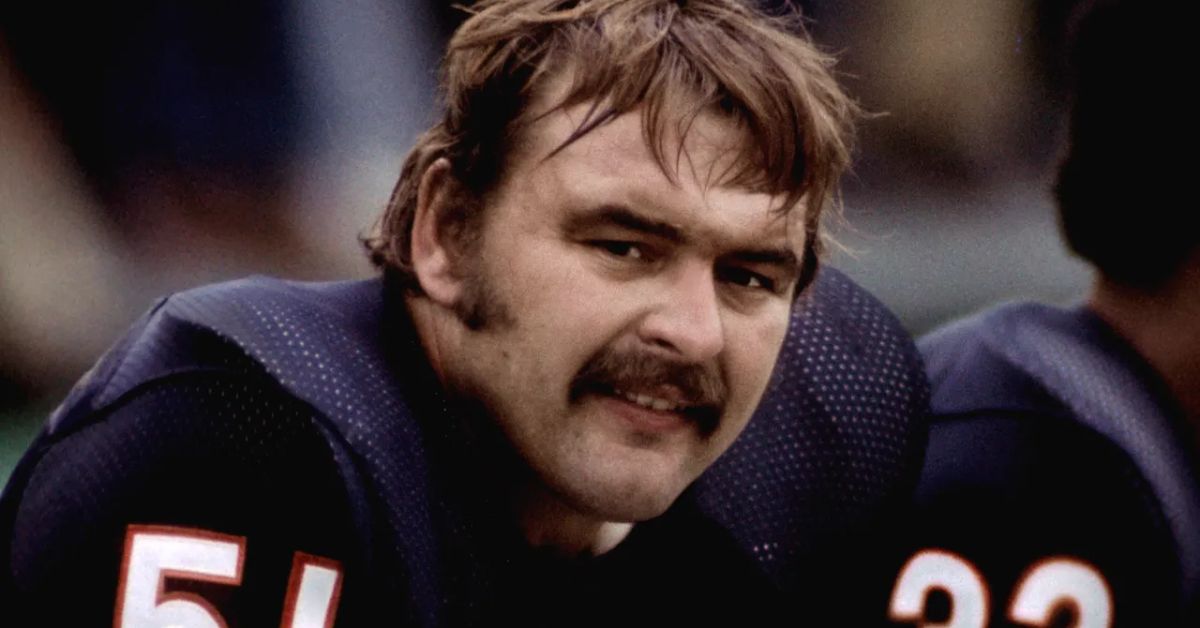 Butkus wasn't only an imposing physical presence. As a rookie, he made five picks, and toward the end of his career, he had 22. A superb all-around player, he was a revelation.
Everyone, though, recalls him mostly for his violent tackling.
By the time Sports Illustrated featured Butkus as "The Most Feared Man In The Game" on the cover of their 1970 NFL preview issue, his reputation had already been cemented. Playboy's 1971 profile of Butkus read: "To a fan, the tale on Butkus is fairly clear. He's the dirtiest, roughest, and meanest son of a b*tch in the NFL. A beast, a barbarian, a lowlife.
Legendary defensive end Deacon Jones reportedly claimed, "Dick was an animal," as reported by NBC Sports Chicago. "I labeled him a psychotic. A stone maniac. He was a fit beast who, when he hit you, aimed for the grave rather than the emergency room.
Butkus would play into that reputation at times. During an interview with a television reporter, Butkus reportedly claimed, "I sometimes have a dream where I hit a man so hard his head pops off and rolls downfield." This quote appeared in a Playboy article from 1971. Fans of the sport have undoubtedly seen the NFL Films footage of Butkus annihilating opposing running backs.
During an episode of NFL Network's "A Football Life," Butkus' loved ones scoffed off the idea that he was nasty, claiming they had never seen such a side of him. During his acting career after football, Butkus showed a gentler side, appearing in the comedy "My Two Dads" for two seasons in the late '80s.
But Butkus' aggressiveness always had a stellar reputation. And he certainly deserved it after his legendary career. Always a symbol of the brutality of the professional football league, he will never be forgotten.
With the below link, you may read about the relationships of other celebrities: