Greta Thunberg, a Swedish climate activist, was ejected forcibly from a rally on Monday in Malmo. This happened shortly after Thunberg was punished by a Swedish court for defying police last month while participating in an environmental demonstration at an oil complex. Even when the judge fined Thunberg, the environmental activist tried to prevent people from entering the facility once more.
Greta Thunberg Denied The Guilt
The struggle against the fossil fuel business, according to 20-year-old Thunberg, was a sort of self-defense against the existential and global threat posed by the climate crisis. Thunberg acknowledged the facts but denied blame.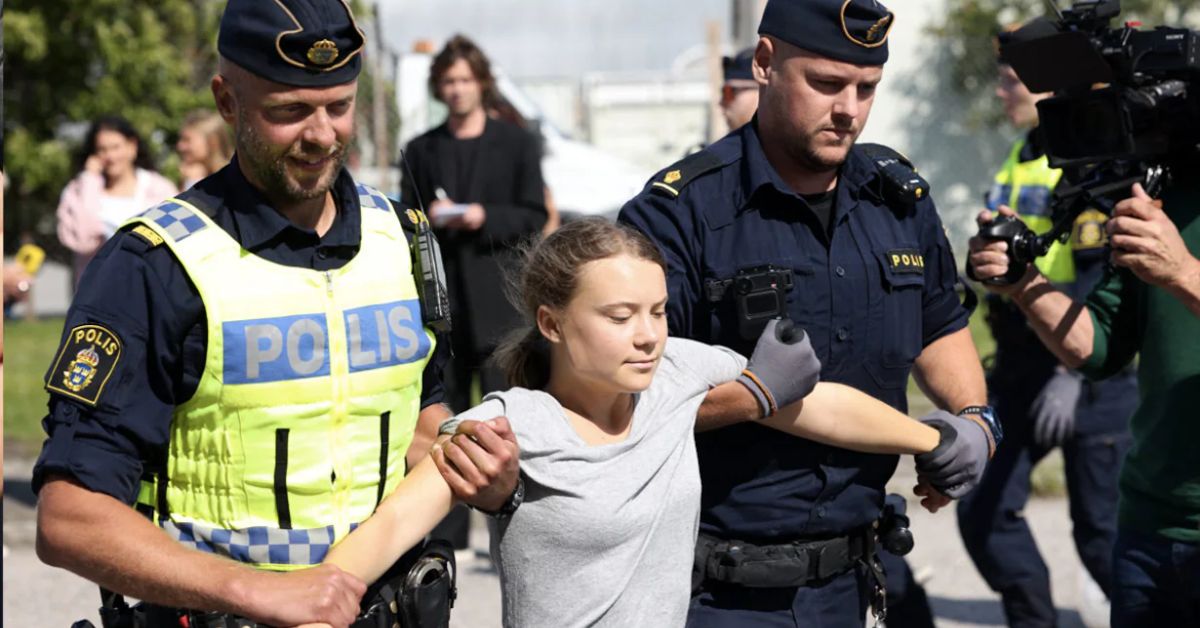 After learning the verdict, she told reporters, "We cannot save the world by playing by the rules," and she vowed she would "definitely not" back down.
The tweet regarding the incident:
#GretaThunberg forcibly removed from climate protest after fine

"We know that we cannot save the world by playing by the rules because the laws have to be changed"#ClimateChange #ClimateCrisis #ClimateEmergency #ClimateBreakDownhttps://t.co/luEs9BxnT8

— Prof. Peter Strachan (@ProfStrachan) July 24, 2023
She was assessed a 2,500 kronor (approximately USD 240) fine after the court rejected her argument.
In Malmo, a city in southern Sweden, charges were made against Thunberg and three other young Reclaim the Future activists for defying a police order to disperse on June 19. They had blocked a road leading to an oil terminal.
Reclaim the Future spokesperson Irma Kjellstrom, who was also present during the June rally, said, "If the court sees our acts of self-defense as a crime, that's how it is." Activists "have to be exactly where the harm is being done," she continued.
You can also read about other similar articles by visiting the links below:
The teens' tenacity didn't seem to be affected by the sentence; Thunberg and the Reclaim the Future activists returned to the oil terminal in the afternoon to set up yet another barricade before being dispersed by police.
Earlier, Thunberg had argued in court that her acts were acceptable. "I think we are facing a crisis that endangers human life, physical health, and property. Many individuals and communities are at danger, both now and in the future, she said.
Thunberg was mandated by the court to pay 1,500 Swedish crowns ($144) as well as an additional 1,000 crowns to the Swedish fund for crime victims. The penalty was assessed in accordance with her declared income. The maximum penalty for disobeying a police order is six months in jail.
Our website Poptopnews.com has more such articles and latest updates. You can always find it on google by writing pop top news and find it on the top.