Filipino boxer Manny Pacquiao also works as an actor, musician, endorser, and politician. As a long-time senator for the Philippines, Manny Pacquiao is a prominent political figure. Pacquiao is regarded as one of the greatest "pound for pound" boxers of all time in many sports circles.
He has won international titles in five different weight divisions and is the only professional boxer to hold the title of eight-division world champion. As a successful entrepreneur, Pacquiao has explored a number of commercial endeavors in addition to his sporting and political activities.
Manny Pacquiao Net Worth
Manny Pacquiao Net Worth is estimated to be around $220 Million currently. In May 2015, Manny faced up against his longtime foe Floyd Mayweather in the biggest and most lucrative fight of his career. When all was said and done, Manny had made $130 million from the fight between his guaranteed payment and pay-per-view bonuses. He has made at least $500 million from bouts and endorsements over the course of his career.
On December 17, 1978, Emmanuel Dapridran Pacquiao was born in the Philippines' small municipality of Kibawe, Bukidnon. Up until the sixth grade, he shared a home with his mother and father and six other siblings. Pacquiao was first drawn to martial arts by witnessing Mohammed Ali and Bruce Lee fights when he was a young boy.
He was forced to leave high school due to his family's financial struggles. At the age of 14, Pacquiao started boxing, the same year he left home to help his mother support his brothers. He has said that he began boxing as a means of survival since, while living on the streets, he was aware of his skill in the sport.
Also Read:
Pacquiao became a professional at the age of 16, but he had already been selected for the Filipino national team at the age of 14. He had an amateur record of 60 wins and 4 losses, and the government covered his housing and board. Manny Pacquiao, then 16 years old and standing at 4'11" and weighing 98 pounds, was not old enough to compete.
Later, he acknowledged that in order to compete, he put weights in his socks during weigh-ins. Edmund Ignacio was the opponent in his maiden professional victory at light flyweight.
Despite suffering an early defeat to Rustico Torrecampo, Pacquiao went on to triumph in his following 15 fights. After defeating Chatchai Sasakul, he won his first significant title, and in 2001, he also took home the super bantamweight crown.
He made his featherweight debut in 2003, defeating Antonio Barrera via technical knockout in the eleventh round. In 2005, Pacquiao stepped up to super featherweight to take on Erik Morales. Despite losing the first match with his opponent, he prevailed in 2006. Pacquiao defeated Morales once more in 2006 after successfully defending the belt against several opponents.
Manny Pacquiao Earnings
Pay-per-view tickets for Pacquiao's events have been purchased by about 20 million individuals. His 25 pay-per-view fights brought in a total of about $1.3 billion in income. He earned the second-highest salary of any athlete in the world in 2015.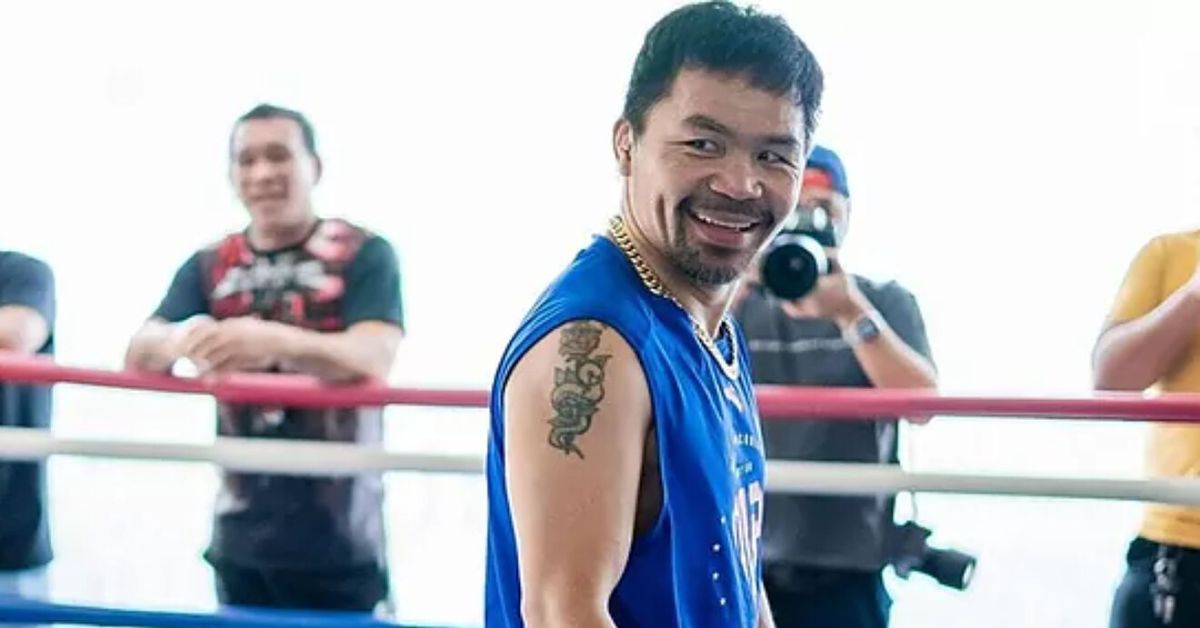 Manny Pacquiao Political Career
In 2007, Manny Pacquiao made his first attempt to win a seat in the Filipino House of Representatives, however he was unsuccessful. Following that, he successfully ran for a different district in 2010 as a result of his efforts. Pacquiao campaigned for a senate seat in 2016 after finding success in Filipino politics. He took the position and has remained actively involved in domestic politics ever since.
Manny Pacquiao Career In Entertainment
Manny Pacquiao has had a successful career in entertainment in addition to his careers in sports and politics. His appearances have mainly been in Filipino movies, though he has also made one Tosh.0 appearance. There have also been rumors that she would show up in Hollywood productions.
Manny Pacquiao Personal Life
In 1999, Manny wed his wife Jinkee. Together, they are parents to five kids. In the Philippines, their daughter Mary Divine Grace is a well-known YouTuber. They have two sons: one who is a rapper and the other who is an amateur boxer.
Manny Pacquiao Actual Estate
Manny and Jinkee spent $2 million on a house in the LA suburb of Hancock Park in 2009. The house has intermittently been on the market since it was built the year before they moved in. They put the house on the market in November 2021 for $4.5 million.
Our website Poptopnews.com has more such articles and latest updates. You can always find it on google by writing pop top news and find it on the top.