In the world of filmmaking, there are those whose contributions leave an indelible mark on the industry. John Bailey, a renowned cinematographer and former president of the Academy of Motion Picture Arts and Sciences, was one such luminary. It is with heavy hearts that we share the news of his passing at the age of 81, leaving behind a legacy that will forever shine on the silver screen.
John Bailey's journey through the world of cinema began as an assistant cameraman on the 1971 film "Two Lane Blacktop." Little did he know that this humble beginning would pave the way for a five-decade-long career filled with extraordinary accomplishments. His work behind the camera lens graced some of the most iconic films in Hollywood history.
One of the high points in Bailey's career was his involvement in the 1980 film "Ordinary People," directed by Robert Redford. This poignant family drama not only touched the hearts of audiences but also garnered four Oscars in 1981, firmly establishing John Bailey as a cinematographic force to be reckoned with.
Another feather in his cap was his exceptional work on "The Big Chill," a film that continues to be celebrated for its storytelling and cinematography. Bailey's resume also includes other memorable films such as "Silverado," "The Accidental Tourist," "Groundhog Day," "In the Line of Fire," "As Good as It Gets," "How to Lose a Guy in 10 Days," "The Sisterhood of the Traveling Pants," and "Must Love Dogs." With such a diverse range of projects, Bailey demonstrated his versatility and artistry in the craft of cinematography.
But John Bailey's contributions to the film industry extended beyond his work as a cinematographer. He became an integral part of the Academy of Motion Picture Arts and Sciences, serving as a governor for 15 years and eventually ascending to the position of president from 2017 to 2019. Notably, he was the first cinematographer to hold this prestigious position.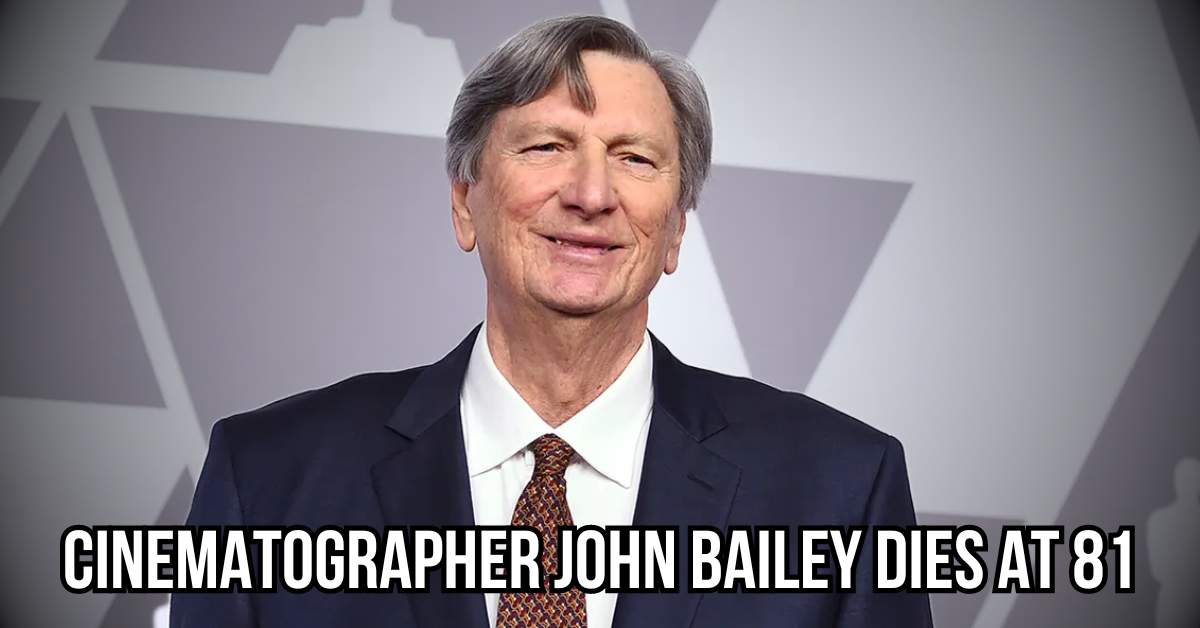 Also, have a look at – 
During his tenure at the Academy, Bailey was actively involved in various committees, displaying a deep commitment to preserving the history and heritage of cinema. He served as the Academy's representative on the Library of Congress's National Film Preservation Board, a role that underscores his dedication to the preservation of cinematic treasures. He was also engaged in committees related to Nicholl Fellowships in Screenwriting, Film Scholar and Grants, International Outreach, the Science and Technology Council, Membership Screenings, and In Memoriam.
John Bailey's remarkable journey was not confined to the Academy alone; he was a distinguished member of the American Society of Cinematographers. His contributions to the ASC were invaluable, serving as secretary and vice president on its board of governors. In recognition of his outstanding career, he was bestowed with the ASC's Lifetime Achievement Award in February 2015, a testament to his enduring impact on the world of cinematography.
In addition to his professional achievements, John Bailey had a personal story that was equally inspiring. He and his wife, Carol Littleton, an Oscar-nominated film editor and former Academy governor, shared a profound and enduring love. They met 60 years ago and were married for 51 of those years, their journey intertwined with the magic of cinema. Bailey's legacy will forever live on in the hearts of those who knew and admired him.
As we bid farewell to this cinematic legend, the film community mourns the loss of a passionately engaged member whose impact and contributions will never be forgotten. John Bailey leaves behind a cinematic legacy that will continue to captivate audiences and inspire future generations of filmmakers.
In lieu of flowers, the family requests that donations be made in Bailey's memory to the Academy Foundation, a fitting tribute to a man whose life was dedicated to the art of filmmaking. John Bailey, a true maestro of light and shadow, has taken his final bow, leaving behind a shining legacy that will continue to illuminate the world of cinema for years to come.