Exciting news for all the BTS ARMY out there! Global Citizen Festival just dropped a bombshell announcement that's sure to make your day. Guess what? Jungkook, one of the super-talented members of the global sensation BTS, is now a co-headliner for the 2023 Global Citizen Festival.
Mark your calendars for September 23, because that's when this epic event is going down in the heart of New York City's Central Park. Jungkook, who's only 26, will be sharing the stage with some other incredible headliners like Anitta, the legendary Ms. Lauryn Hill, and the rock icons, Red Hot Chili Peppers. This festival is going to be a musical extravaganza like no other!
But wait, there's more! The lineup doesn't stop there. Prepare yourselves for mind-blowing performances from artists like Megan Thee Stallion, the soulful Conan Gray, the dynamic Stray Kids, the ever-charming D-Nice, and the multi-talented Sofia Carson. It's a star-studded affair that you won't want to miss.
Now, let's talk about the heart of the Global Citizen Festival. It's not just about music; it's about making the world a better place. Hosted by the amazing international advocacy organization, Global Citizen, this festival has a mission. It aims to bring world leaders together to tackle some of the most pressing issues of our time, like the climate crisis, gender equity, and poverty. So, while you're enjoying the music, you're also contributing to some incredibly important causes.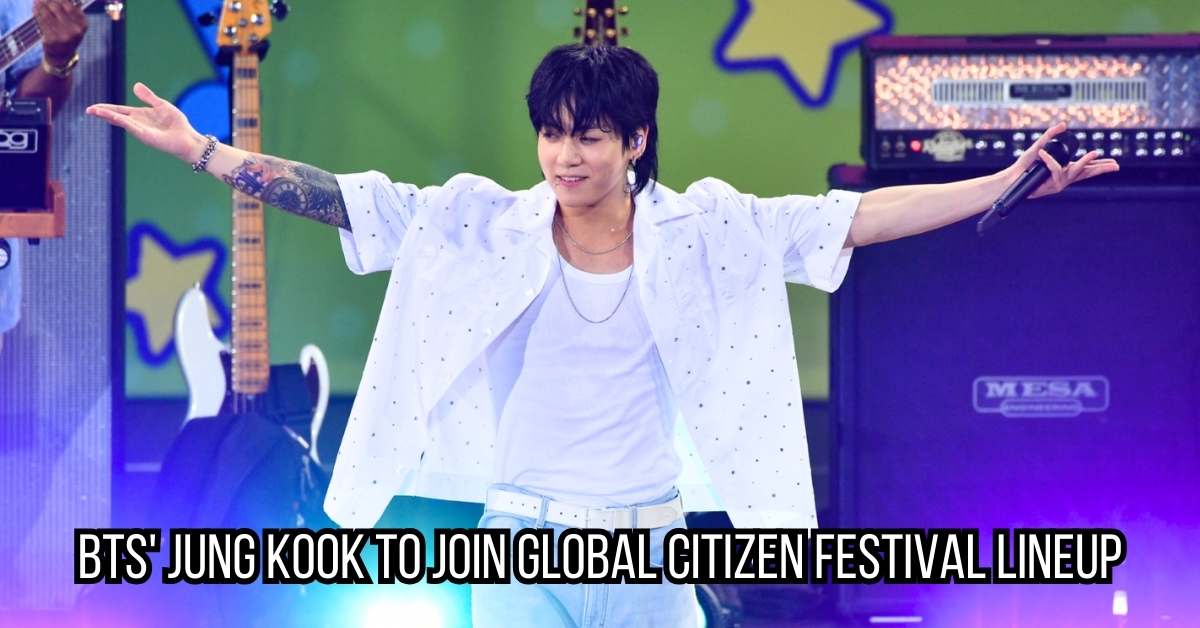 Do you realize that Ava DuVernay made history at the Venice Film Festival? In the 80-year history of the festival, she is the first Black female director from the United States to have her film featured in the primary competition:
Jungkook himself is pretty pumped about it. In his own words, "I'm so thrilled to join this year's Global Citizen Festival as a headliner! The festival sheds light on important causes and drives action, and I'm happy to take part in it. I can't wait to perform in front of many people at the Great Lawn in Central Park." His enthusiasm is infectious!
But that's not all. There will be some special guests and advocates joining the event too. The science guy, Bill Nye, the talented Bridget Moynahan, the fabulous Busy Philipps, and many more, including Carmelo Anthony, Common, Connie Britton, Danai Gurira, Gayle King, Jordan Fisher, Lewis Pugh, Padma Lakshmi, Phoebe Gates, Rachel Brosnahan, and Sophia Bush, will make appearances to show their support for these important causes.
Now, here's the cherry on top: you can attend this incredible festival for free! Yep, you heard that right. You can earn your tickets by taking action on the Global Citizen app or online at www.globalcitizen.org. It's not just about the music; it's about making a difference.
Can't make it to Central Park? No worries! You can catch all the action live on ABC and various online platforms. Just head over to www.globalcitizen.org to find out where you can watch the festival.
So, there you have it – the 2023 Global Citizen Festival is going to be a music-filled, star-studded, and socially conscious extravaganza, and Jungkook of BTS is ready to rock your world! Don't miss out on this unforgettable event that's all about making positive change in the world.