In the realm of professional football, Nick Chubb's name has been synonymous with the Cleveland Browns for nearly a decade. He's been the heart and soul of the team, earning immense respect in the locker room and displaying unwavering commitment on the field. So, when the distressing scene unfolded on Monday night – Chubb being carted off the field with a severely injured left knee, effectively ending his season – it was a gut-wrenching moment for everyone involved.
"It (freaking) hurts," expressed defensive end Myles Garrett, capturing the collective sentiment of Browns fans and teammates alike. Chubb, a four-time Pro Bowler at the young age of 27, has been a constant presence for a franchise striving to establish itself as a perennial contender. Sadly, his sixth NFL season came to an abrupt halt in the second quarter of the game against the Pittsburgh Steelers.
The injury occurred early in the second quarter when Steelers safety Minkah Fitzpatrick tackled Chubb low at the end of a 5-yard run, causing Chubb's left knee to buckle underneath him. The sight of Chubb clutching his injured knee while teammates tried to help him up was painful to witness. It was eerily reminiscent of a major knee injury he suffered back in college at Georgia in 2015 – a dislocation accompanied by three torn ligaments.
Chubb lay on the ground for several agonizing minutes while teammates gathered nearby in prayer. Eventually, he was taken off the field on a cart and transported to a local hospital as a precaution. By the time the Browns were packing up after their 20th consecutive regular-season loss in Pittsburgh, Chubb was already on his way back to Cleveland.
Cleveland's head coach, Kevin Stefanski, didn't have precise details about the extent of Chubb's injury but anticipated that he would be out for the remainder of the season. "We feel, obviously, for Nick," Stefanski remarked, "but I know Nick and his teammates know, and you have to move on."
Moving forward won't be easy, especially in the wake of such a publicly painful injury. NBA superstar and Ohio native LeBron James, as well as Baltimore Ravens quarterback Lamar Jackson, expressed their support for Chubb on social media, underscoring the profound impact he's had on the game and the community.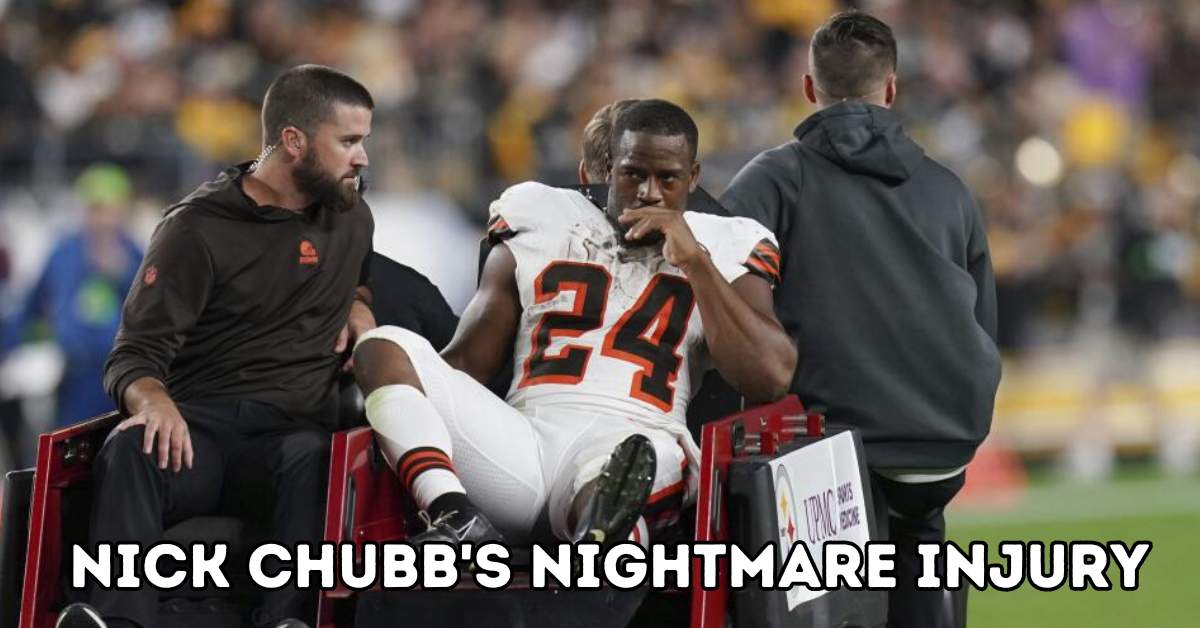 Do you know that Billy Miller, well known for his appearances on "The Young and the Restless" and "General Hospital," died at the age of 43? As his manager verified, September 17 would have been his 44th birthday, making this news all the more tragic:
Throughout his career, Chubb has demonstrated remarkable resilience. Despite missing the second half of his sophomore year due to injury, he returned to achieve over 1,000 rushing yards in both 2016 and 2017. A second-round pick by the Browns in 2018, he has consistently averaged over 1,250 rushing yards per season, serving as a beacon of work ethic and humility. His approach has become a blueprint for the culture Stefanski aims to instill in a locker room that has struggled to find consistent success.
Jerome Ford, Chubb's replacement, made an immediate impact by scoring a 3-yard reception and adding a 2-point conversion after Chubb's exit. Ford's performance, including rushing for 106 yards and contributing 25 yards through receptions, was commendable. However, it wasn't enough to secure a victory in a rivalry game where the Pittsburgh Steelers always seem to have the upper hand when playing at home.
The game was marred by turnovers and penalties, making it exceedingly challenging for the Browns to win on the road. Their record now stands at 1-1, and with four months left in the season, they must regroup quickly. Their next challenge comes in the form of a matchup against the Tennessee Titans next Sunday. In honor of Chubb, they must channel his resilience and unwavering work ethic, shedding any excuses and soldiering on.
Nick Chubb, a man of few words who lets his actions speak volumes, has left an indelible mark on the game of football. His injury may be a setback, but his legacy and influence will continue to inspire his teammates and fans alike.