Meet Zeus, the gentle giant from Texas who captured hearts around the world with his towering presence. Zeus, a magnificent Great Dane, held the prestigious Guinness World Records title for being the tallest living male dog. But sadly, at the young age of 3, Zeus's journey came to an end.
Standing at an astonishing 3 feet and 5.18 inches tall, Zeus's remarkable life was marked by both triumph and tragedy. He battled a devastating bone cancer diagnosis, which ultimately led to the amputation of his front right leg. Despite his courageous fight, Zeus succumbed to pneumonia, leaving his owner, Brittany Davis, and all who knew him, heartbroken.
Brittany had set up a GoFundMe page to help cover the medical expenses for Zeus's surgery. In her words, "Our baby boy is gone. Our hearts are broken. He had the absolute best doctors who sat on the floor and cried with us. He fought hard, but the pneumonia was just too much. He is not in pain anymore. He is resting peacefully. Thank you so much, everyone who supported our boy."
Zeus was more than just a record-breaking dog; he was a loyal and devoted companion who brought immeasurable joy and comfort to the lives of those around him. Guinness World Records officially recognized Zeus as the tallest living dog on the planet in the previous year. His remarkable height, while standing on all fours, was verified by a veterinarian on March 22.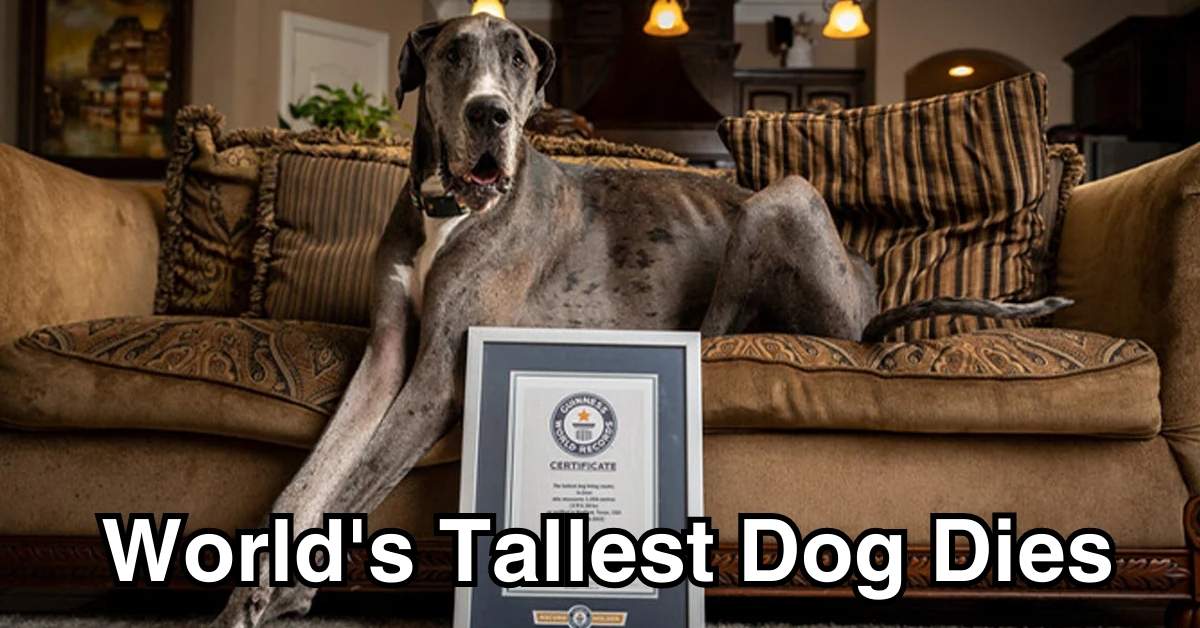 Did you witness the endearing moment when Jonathan Majors, the star of "Ant-Man and the Wasp: Quantumania," intervened to stop a fight between two high school students? While he was casually getting a bite to eat at the In-N-Out across the street, the incident occurred just outside Hollywood High School:
The story of Zeus began when Brittany's brother fulfilled her dream of having a Great Dane named Zeus by gifting her an eight-week-old puppy. Zeus quickly became an integral part of their family. Brittany shared, "Zeus has absolutely changed our family. He brings so much joy. He is such a loving, loving dog."
Even as a pup, Zeus was impressively large. Brittany remarked, "He's been a big dog since we got him, even for a puppy. He had huge paws." She added, "When he gets excited, it's about 10 minutes, and he runs around and then he's tired."
Despite his size, Zeus had a gentle demeanor, and the only time he misbehaved was when he couldn't resist the temptation of food on the counter or the baby's pacifier.
People who saw Zeus couldn't help but be captivated by his sheer size. Brittany and her family often heard remarks like "Wow! That's a horse!" or playful questions like "Can I ride him?" and "Does he have a saddle?"
Zeus had a special bond with Brittany's teenage son, and the two were inseparable. "You don't find one without the other," Brittany said.
At home, Zeus shared his space with three miniature Australian shepherds and a cat, but his best friend was a fellow shepherd named Zeb.
Brittany cherished the uniqueness of Zeus's stature, exclaiming, "It's kind of cool to be able now to say, 'Yes, it's definitely the tallest dog you've ever seen!' He's a Guinness World Record holder."
It's worth noting that while Zeus held the title for the tallest living male dog, the record for the tallest dog ever goes to a different Great Dane also named Zeus, who reached a towering 44 inches in height before sadly passing away in September 2014 at the age of five.
Zeus, the lovable giant from Texas, leaves behind a legacy of awe and inspiration, reminding us all that sometimes, the most extraordinary things come in the form of our beloved furry friends.