Travis Barker is back to rocking out on the drums! Blink-182 made a triumphant return to the stage after a brief hiatus caused by an emergency involving Barker's wife, Kourtney Kardashian.
Last week, Travis Barker, the 47-year-old drummer, had to leave the UK leg of their tour to rush to be with his pregnant wife, Kourtney Kardashian, 44. She underwent an unexpected emergency surgery, which prompted the band to postpone three shows in Glasgow, Belfast, and Dublin, citing a "family matter" for Barker.
However, the good news is that Blink-182 was able to get back on stage in Antwerp, Belgium, and Travis Barker couldn't contain his excitement. He took to Instagram to share his joy with fans, captioning a post with "1st day of tour 🥁🥳." In the accompanying video, you can see Barker walking up to the venue, where he graciously gave his drumsticks to a fan who was moved to tears after meeting the renowned musician.
Barker didn't stop there; he also treated his followers to a virtual tour of a beautiful church in Belgium through his Instagram Stories. The concert in Antwerp was a memorable one, with fans enthusiastically singing along to Blink-182's hits, including the emotional rendition of "I Miss You," as captured by fans on social media.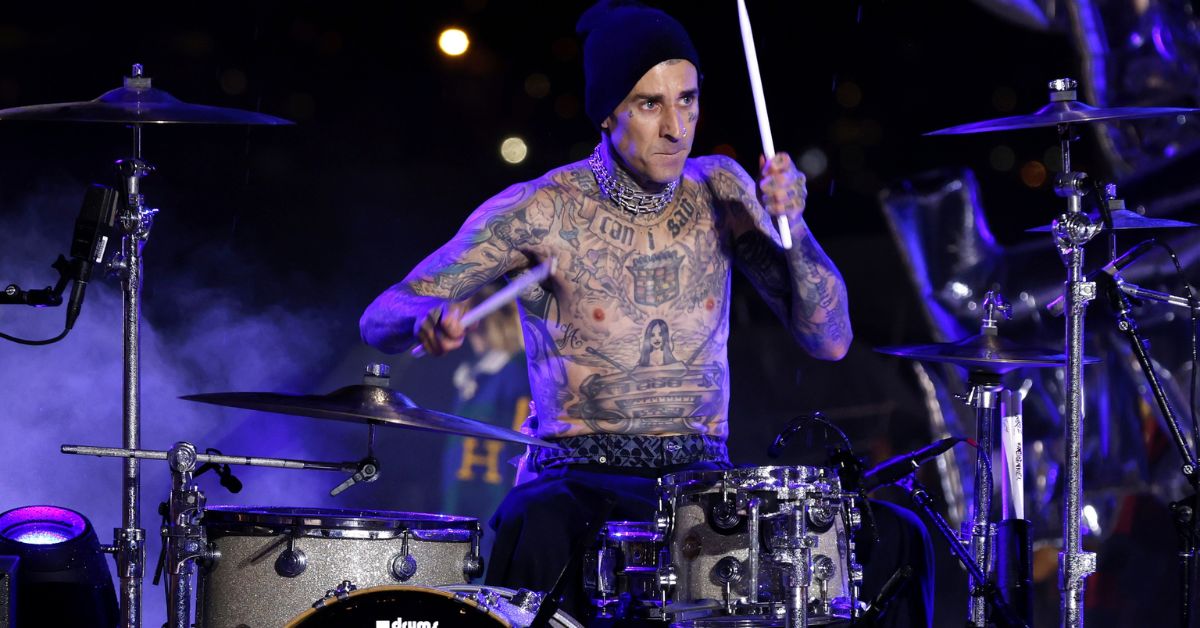 Do you know that just over a month after beloved actor Paul Reubens died at the age of 70, his cause of death was revealed? Famous for his iconic character Pee-wee Herman, Reubens left a legacy of hilarity and entertainment:
Just a few days before the highly-anticipated concert, Travis Barker reassured everyone that the tour would indeed go on. He took to X (formerly known as Twitter) to express his gratitude for the unwavering support of fans and to provide an update on his wife's health, who had experienced a pregnancy complication.
In his heartfelt tweet, the musician shared, "God is great. I flew home for a life-threatening emergency surgery for our baby that I'm so grateful went well. I want to say thank you for all the support. Tour resumes Friday."
Kourtney Kardashian also shared her side of the story on Instagram, posting a touching black-and-white photo of her hand, adorned with a medical bracelet, holding her husband's hand. She expressed her profound gratitude to the doctors who had saved their baby's life and praised Travis for rushing to her side and taking care of her during and after the surgery. Her mother also received a heartfelt thank you for her support.
The reality star, who had previously experienced easy pregnancies, revealed that the fear of urgent fetal surgery was something she wasn't prepared for, and she expressed newfound respect for mothers who have had to fight for their babies' health during pregnancy. She concluded her post with a message of gratitude, saying, "Walking out of the hospital with my baby boy in my tummy and safe was the truest blessing. 🙏🏼🤍."
This is especially heartwarming news for the couple, as Kourtney Kardashian is expecting their first child together after their marriage in May 2022. Both of them have children from previous relationships: Kourtney with ex Scott Disick, sharing Mason, Penelope, and Reign, and Travis with his ex-wife Shanna Moakler, sharing son Landon, daughter Alabama, and stepdaughter Atiana.
Travis Barker's return to the stage marks not only a thrilling moment for Blink-182 fans but also a celebration of his wife's successful surgery and the impending arrival of their baby. The couple's journey through this challenging time has undoubtedly brought them even closer together.